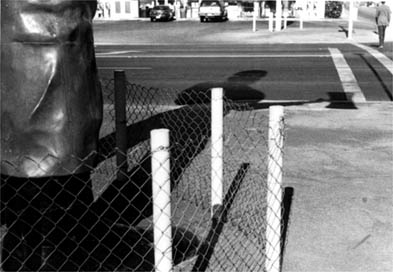 Paul Bunyan
North Stone Avenue and East Glenn Street, Tucson

Click here for a second view of Paul Bunyan.
A comic strip Paul Bunyan towers on a street corner, surrounded by a fence. He seems to bear no relation to the stores around him. Why has he been transplanted here from his native Minnesota forests? By competing with the conventional cowboy so prevalent in Tucson, he is a cultural non sequitur, out of place in Tucson. Note: There is a twin of this Paul Bunyan in Flagstaff, Arizona.